FRIDAY COMMUNITY PROGRAM
10:00am – 11:00am
Paul Covello Preschool Visit and Workshop
Gananoque Kinsmen Community Hall
10:00am – 11:00am
Jess Keating Primary Visit and Workshop
St. Joseph Catholic School & Linklater Elementary School
Gananoque Public Library
10:00am – 11:00am
Claudia Dávila Junior Visit and Workshop
Thousand Islands Elementary School
Leeds and the Thousand Islands Community Center
10:30am – 11:30am
Maggie Wheeler Seniors Engagement
Carveth Care Center Lodge
1:00pm – 2:00pm
Jess Keating Junior Visit and Workshop
St. Joseph Catholic School & Linklater Elementary School
Gananoque Public Library
2:15pm – 3:15am
Claudia Dávila Primary Visit and Workshop
Thousand Islands Elementary School
Leeds and the Thousand Islands Community Center
2:00pm – 3:30pm            Maggie Wheeler Seniors Engagement
(To be confirmed)
Foxrun by the River Retirement Residence
1:00pm – 2:00pm            Paul Covello Student Visit and Workshop
On book development and marketing.
Gananoque Intermediate and Secondary School
FRIDAY EVENING
7:00pm – 8:30pm
Canada 150 Festival Opening @ Gananoque Inn & Spa
Celebrating the Power of Words: Our Identities, Our Stories
Opening Remarks & Presentation of Youth Awards; Slam Poetry Performance by Prufrock Shadowrunner; and "One Brother Shy", Book Launch and Keynote with Terry Fallis
9:00pm – 10:00pm
FREE COMUNITY EVENT | The Great North Challenge
Canada 150 Pub Quiz with Quiz Master Sam MacLeod
@ Muskie Jake's Tap and Grill
SATURDAY MORNING & AFTERNOON WORKSHOPS
10:00am – 11:30am
Writing Slam Poetry & The Power of Spoken Word Art
With Prufrock Shadowrunner @ Gananoque Brewery
9:00am – 12:00pm
The A – Z of Engaging Children:
Stories and Illustration, Writing and Design
With Claudia Dávila, Jess Keating and Paul Covello
@ Local School TBA
9:30am – 10:30am
On Blogging, Writing, and Social Media 
Two for One: Kerry Clare and Lindy Mechefske
10:45am – 12:15pm
Why Food Writing Matters with Lindy Mechefske
10:45am – 12:15 pm
The Art of Blogging with Kerry Clare
@ Gananoque Inn & Spa
2:00pm – 3:30pm
Writing the Truth in a Post Truth World – Creative Non-Fiction
With Marni Jackson @ Gananoque Inn & Spa
SATURDAY MORNING LIVING ROOM SESSIONS
Living Room Sessions (1)
10:00am – 11:00am Terry Fallis @ Sleepy Hollow B&B
10:00am – 11:00am Ian Hamilton @ Turtle Island B&B
10:00am – 11:00am Cathy Marie Buchanan @ Trinity House B&B
10:00am – 11:00am Marni Jackson @ Seaway Manor B&B
10:00am – 11:00am Karolyn Smartz Frost @ Gananoque Inn & Spa
10:00am – 11:00am Maggie Wheeler @ Riverwalk B&B
Living Room Sessions (2)
11:30am – 12:30pm Terry Fallis @ Sleepy Hollow B&B
11:30am – 12:30pm Ian Hamilton @ The Stonewater B&B
11:30am – 12:30pm Maggie Wheeler @ Riverwalk B&B
11:30am – 12:30pm Cathy Marie Buchanan @ Trinity House B&B
11:30am – 12:30pm Marni Jackson @ Seaway Manor B&B
SATURDAY AFTERNOON – Candid Canadian Conversations
2:00pm – 3:00pm
Setting in Storytelling: Location and Setting in Fiction
With Ian Hamilton & Cathy Marie Buchanan
@ Gananoque Inn & Spa
2:00pm – 3:30pm
Without Apology: On Being Mom Enough
With Kerry Clare @ Gananoque Public Library
3:30pm – 4:30pm
Choosing Canada: The Many Faces of Immigration/
Stories of Freedom Seekers
With Karolyn Smardz Frost & Prufrock Shadowrunner
@ Gananoque Inn & Spa
SATURDAY AFTERNOON & EVENING
| Celebration of Canadian Food
FREE COMUNITY EVENT
2:00pm – 5:00pm Joel Stone's Own Community Farmer's Market  
@ The Arthur Child Heritage Museum
5:00pm – 7:00pm
Feast: An Edible Road Trip, Stories of Food Across Canada
With Lindsay Anderson and Dana VanVeller
With tastings of our own local flavours
@ The Arthur Child Heritage Museum
SUNDAY MORNING
9:30am – 11:00am
Breakfast Over Easy: Fun and lively conversation with our visiting writers
No additional festival fee for pass holders. Enjoy a three-course decadent brunch for only $15.
@ A NEW RESTAURANT – a secret riverside venue in the forest by the river.
SUNDAY AFTERNOON
1:00pm – 2:00pm
1000 Islands Stories | Memories of River Life from 1650 to 2017
With Susan W Smith @ The Thousand Islands Boat Muesum
Conversation led by Anne (Blu) Mackintosh of the Thousand Islands Area Residents' Association (TIARA) St. Lawrence River, Heritage River Designation Committee
NOT INCLUDED IN THE PASS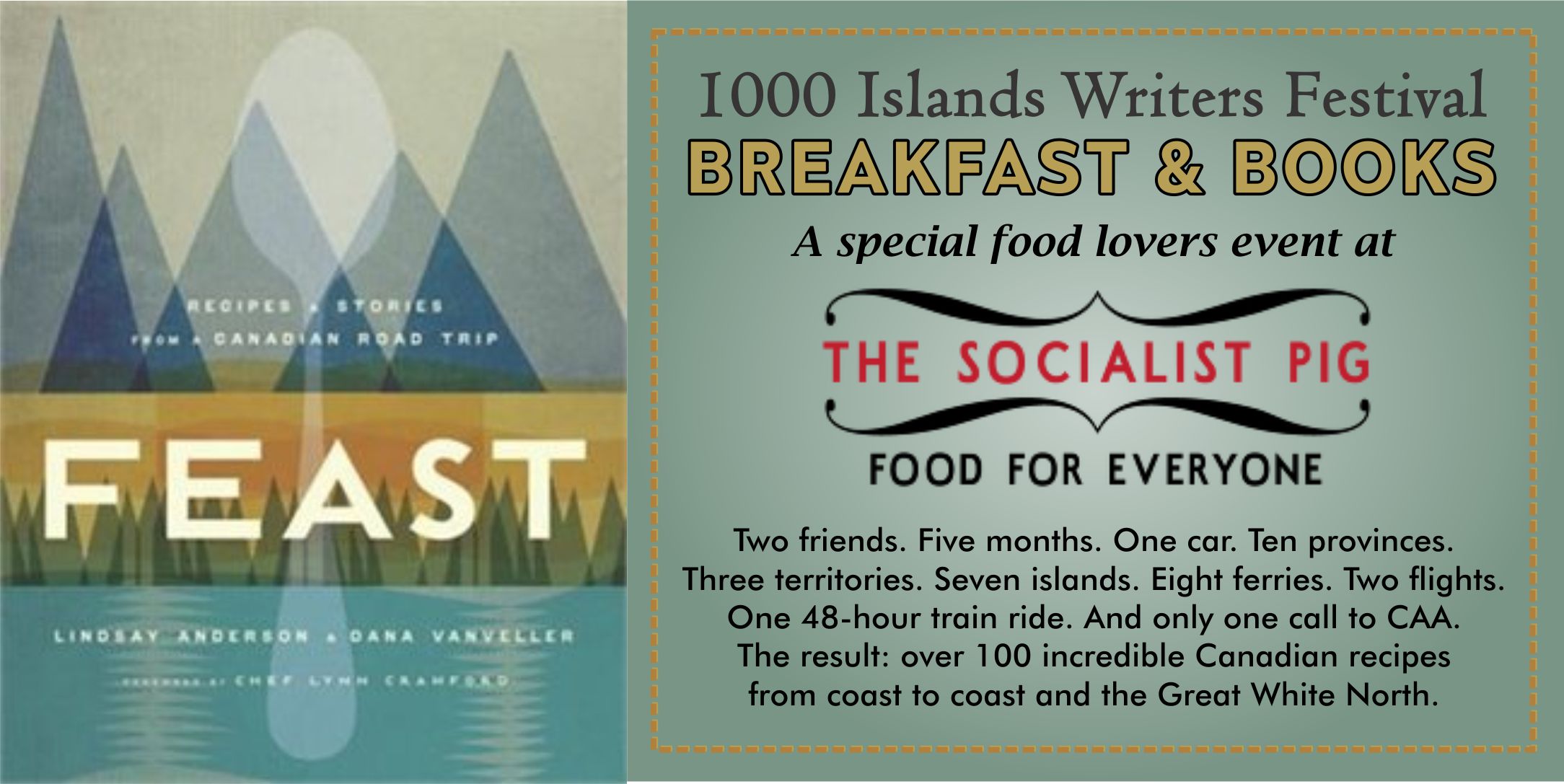 SATURDAY 9:00am – 10:30am
EXCLUSIVE | All inclusive Books & Breakfast  $65
FEAST Recipes and Stories from a Canadian Road Trip: Two Friends, Five Months, One Car 
With Lindsay Anderson and Dana VanVeller @ The Socialist Pig
Enjoy a breakfast to remember at our community's favorite local coffee house, The Socialist Pig, while taking part in entertaining conversation with Lindsay Anderson and Dana VanVeller, winners of Saveur's "Best Culinary Travel Blog" award. Enjoy your choice of one of four mouth-watering meal options as the authors share their food adventures from their 37,000-kilometer road trip across Canada. Two friends. Five months. One car. Ten provinces. Three territories. Seven islands. Eight ferries. Two flights. One 48-hour train ride. And only one call to CAA. The result: over 100 incredible Canadian recipes from coast to coast and the Great White North. This exclusive event includes a signed copy of Lindsay and Dana's book, "FEAST Recipes and Stories from a Canadian Road Trip," full of stories, photographs and great recipes. Breakfast includes a beverage (tea, coffee, juice or mineral water), tax and gratuity.
SATURDAY 7:30pm – 9:00pm
The Gananoque and Area Choral Society Spring Concert Presents Canada 150 
Directed by Anna Basten | Accompanist Paul Harding 
Featuring the Works of Canadian Songwriters and Composers
@Thousand Islands Playhouse Firehall Theatre
Adults $10 Children $5 (up to maximum of $25 per family) Free prize draw and refreshments.